Aristocratic kids
20 October 2023
Categoria:
Children's magic wardrobe opens, ready for every event, even if an informal occasion. Children who wear emotions.
Children surrounded by aristocratic and stylish atmospheres, as the English interiors, distinguished by luxurious fabric and texture that refer back to charming tapestries; attractive chromatism combined to fine handmade embroidery. Everything is wrapped in a magical allure.
Along with the aristocratic theme we can find the spectacular magic of the theater with burgundy velvets and different shades of green and blue.
Our manufacture of clothing for children is made from precious fabrics with very detailed finishings: wool lace, silky velvet and shining satin. Sophisticated texture provides a unique feeling of softness and comfort. Knit fabric and the 'Punto Milano' embellished in an original way, to stand out the fine tailoring and artisan aspect. Our collection is for people who do not want to go unnoticed and love high-quality embellished fabrics. It's a never banal and tacky choice that brings even more value to a rich tailoring design.
Our collection shapes and materials catch the eyes with simple and intriguing textiles. Chromatic choices are a good starting point that inspires our collection. In the first part you can find forest green, rust and mustard colour that blend harmoniously with dew green and teal colour.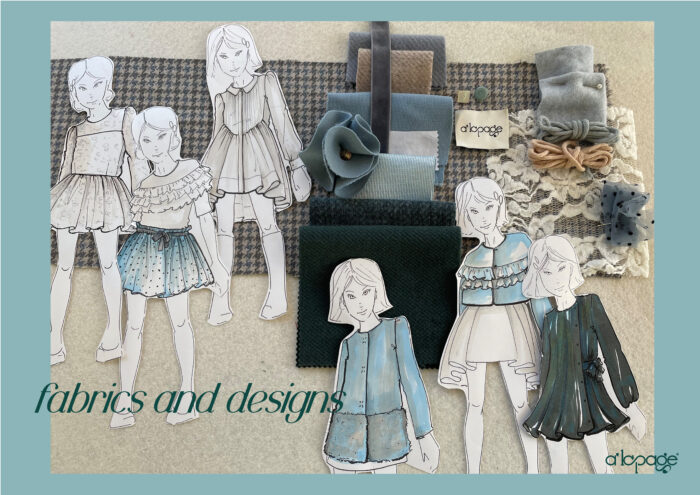 Cheerful and magical choices, such as beige combined with pale blue, pastel pink and the milky and ivory coloured laces and jersey.
A collection deliberately focused on dress and coat matching, but with some pantsuits or skirted suits. Then, we propose tailoring shirts to complete the whole outfit, in some cases also with handmade embroidery to make everything even more exclusive.
With a simple and not obvious design, our coats complete the outfits. They are enriched with details: fur inserts, velvet edgings or removable trimming. The variety of details gives the opportunity to diversify proposals and propose several versions even if the most essential for those customers with minimal style.
Some clothes have simplified versions, where some ribbons, bows and collars are removable giving the opportunity to adapt to different needs and events.
In the collection there are also more scenic outfits such as the quilted jacket, made even more luxurious thanks to velvet.
In every fabric proposal it's possible to find a double outfit to please a very large audience. For the lace proposal there is a simple line, trapeze, as opposed to a more scenic volume of the skirt.
The fabric texture was also tried to vary in both image and comfort: lace; hammered and smooth velvet; laminated or shiny fill coupe; embellished viscose, soft eco-friendly fur; and inevitable tulle. In addition to the classic bridesmaids tulle it gets even more special with micro pois flock and a viscose crepe, for a sophisticated elegance.
The outerwear fabrics have a herringbone effect or silk sateen aspect to enhance details such as the velvets trimmings.
Jewel buttons were used on several items, used to make a clean-lined but even eye-catching and precious clothes.
Accurate style research accompanied by the combinations with full accessories offer an exclusive total look. Scarves, purses, little hats, arm warmers and hair pins reflect the collection's fabrics and are enriched with handmade embroideries.
Baseball caps in a precious way will make our looks more modern and appealing and better express our line.
A new form of romanticism with a modern vision, it's a lifestyle that stands on the entire collection.